Keep the interest alive with email marketing
We're helping clients retain and convert customers with email marketing in San Jose, San Francisco, Santa Cruz and Timbuktu!
Yeah, yeah. We know.
We've heard it all before…
"I don't have time to write a newsletter."
"I'm a horrible writer. I can't write a newsletter."

"No one is interested in how I fixed a stopped drain (or fixed a roof, or tried a legal case, etc.). What will I write about?"

"Everyone hates spam, including me. Why would I spam someone? My customers will hate me!"
Stop already! It's not true!
When you hear about the benefits of email marketing, I can guarantee you'll think twice about what's holding you back. Besides, we have ways around what you think is standing between you and a successful email marketing campaign. You'll be surprised at how easy it really can be. So listen up.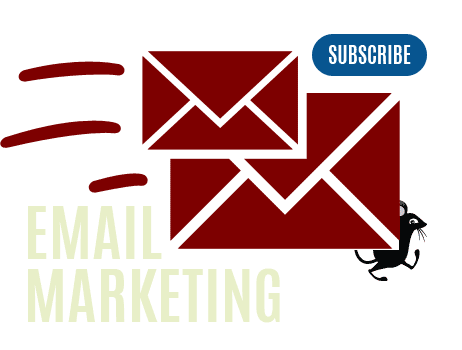 8 reasons email marketing should be in your marketing plan
Believe it or not, people want your emails. Your newsletter doesn't just go to anyone and you didn't buy your list. Your subscribers signed up willingly because they believed you had something valuable to share.
A newsletter keeps you in your subscribers radar. They stay involved in your business and continue to gain appreciation for what you do.
You can extend your reach because sharing is easy. All it takes is hitting the "Forward" link in their email to send your message off to their friends. And they do. Then someone who's never heard of you before suddenly becomes a fan.
It's cheap. Ok, so it takes a little time, but there is no postage fee.
You have a really good chance of reaching your audience. Studies show on average 22% of email messages are missed in their inboxes either because they weren't delivered or they went to spam. But the number or posts missed is 74% or more in Facebook.
The lifespan of a Facebook post is about 2 hours and a Tweet is not much more than a minute. Email doesn't die. It stays in the inbox until someone decides to kill it.
Your newsletter brings your readers back to your website. They'll come for the coupon or to read more. And why do you want them there? That's where your products, services, and calls to action are. And this brings us to the most important reason to use email marketing…
According to the 2013 Econsultancy study, 66% of the respondents state that email delivers an 'excellent' or 'good' ROI, and 8% of businesses said they achieved more than half of their sales through this channel. Wouldn't you rather spend your marketing dollars and time on something that works?
It's simpler than you think.
A monthly newsletter can be as simple as a holiday greeting or a 20% off coupon.
Or go a little deeper.
You're a pro and expert at what you do, aren't you?
Then you know more than they do, so send a little advice.
Writing a newsletter really doesn't have to be hard or take long especially with Kat & Mouse to help.
And we can help…
Set up subscriber lists
Integrate a subscription form on your website
Design a branded newsletter template
Instruct you on how to do it all
Provide you with content ideas
Write your newsletter for you
Edit your newsletter
Make it more graphically appealing
What are you waiting for?
Price starts at $500 to get you all set up and running.