Site audit: Internet marketing advice for a sex toy site
This site audit is my gift to Chrystal Bougon in return for her generous contribution to Team in Training and the Leukemia Lymphoma Society on my behalf. Thank you Chrystal!
Did the title get your attention?
This reminds me of when I was running for student body secretary. I guess was a born marketer and didn't even know it.
One of my campaign posters was completely black except for big, white text that read SEX, and under that in very tiny white print it said, "Now that I have your attention, vote for Kathy for secretary."
It worked because during the lunch hour on the first day I posted it, a crowd of students flocked around it. Problem is, it offended the janitor so he took it down and gave me a tongue lashing. But I had already accomplished my goal, i.e., get attention.
That was then, but times have changed. These days people are much more open about their sexuality and Chrystal Bougon is using that to her advantage with her off and online adult toy store called "Bliss Connection."
And while she's doing well locally, she's not getting much attention in the national market. This is because her business exists in a VERY CROWDED space and competes online against big guns (no pun intended) that spend upwards of $140,000 a month on PPC ads to assure they are seen on that first page in Google!
Chrystal can't afford PPC, so what can she do to grab customers beyond the San Jose area where she is located?
Fortunately for Chrystal, a query for "sex toys" brings up the local Google Places pack and Bliss Connection is sitting pretty in position 2 there. So she, no doubt, is capturing local queries and local customers. Thank you Google for recognizing that many searching for sex toys might be trying to find stores in their area.
But what about the national market? What about those who don't want to walk into a store. Maybe they're embarrassed and so they want to shop online. Is there a way for a small local shop like Bliss Connection to compete in that market? It can't afford the $140,000 a month for PPC ads which would guarantee first page rank, but can it attain a first page rank in what's called the "organic" listings – those results that show up under the paid ads?
Can a small, local sex toy shop get on the first page of Google?
To answer that question, let's look at what is showing up on the first page for a search on "sex toys." In the screenshot below, you'll see that Bliss is showing up in Google Places. At the top and to the right are paid ads. Those listings surrounded by blue are organics.
Note that in that group there are only 3 actual stores. The rest are informational pages. And that is true on the next page as well. Interesting. Except for a few, Google seems to be favoring content over product.
Does this mean that Bliss Connection has a chance after all?
If Chrystal were my client, given her budget, I'd tell her that getting Bliss Connection to rank up there with the big stores would probably be too hard, but that when it comes to getting one of those informational links, anything is possible if you have good information and  a good following.
Remember that – good information & good following.
Good news is Chrystal has a very popular blog called "Everybody Wants Better Sex" that was voted one of the  "Top 100 Sex Blogs in 2011." That's impressive. Sounds like she has the good information and the good following.
But there's a bit of a problem.
If you know anything about SEO, you know that Google ranks sites primarily by the number of inbound links coming into that page, and now even by how many shares and tweets it's getting in social media. The problem for Chrystal is that her blog is not hosted on the same domain as her shop. That means any inbound links coming to her blog aren't helping her store as much as they could. And the shares and tweets are powering up her blog more and her store less.
So what should she do? Move her blog to her store domain, perhaps?
I would say at this stage, that's risky. The blog has dev1eloped its own valuable piece of internet real estate with inbound links and traffic, so I say leave it alone. And since it would be very difficult to rank her store given the competition, maybe it's better that she just try to rank as a sex specialist on her blog site and get traffic to her store site through the back door via her blog.
This, in fact, is exactly what Chrystal is doing, and she's doing a GREAT JOB at it. I'm impressed.
But Chrystal wants to do better. She specificallly asked me how she can improve her blog site, and now that I see what she's been up to, I can only imagine she made that request because she knows her blog is a magnet for her store site. So, with that in mind, here are some suggestions for you Chrystal.
The back door approach to web traffic and sales
Since it's very difficult for Chrystal to get customers to find Bliss Connection in that highly competitive field of deep-pocketed competitors in Google, we're going to use the back door approach and try to bring them in via her popular blog. How do we do that? With good information and a good following. Right?
Let's start with the good content.  Without a doubt, Chrystal knows how to do that. But can she do it better? Here are some tips.
Google loves good quality content.
So do your visitors, so…
Give them what they're looking for.
Study your Google analytics and look for keyword queries that are bouncing people off because they didn't find what they are looking for. Write for those queries.
Check in on discussions online at other blogs, in Twitter, and on Facebook pages. What questions are people asking? Answer those in your blog.
Keep a record of all the questions asked at your Pleasure Parties. Answer those.
Use Google Insights and their free keyword research tool to see what's being talked about. Then address those topics.
Write for the long-tail (no pun intended). This means you want to target long keyword phrases. As an example, people are always looking for how-tos, so write and then optimize your posts with that in mind. And think about what your readers are actually typing in Google and incorporate those exact phrases in your copy. Don't get too creative with your titles, or at least not all the time. Keep it simple and use simple titles such as "How to use a nipple clamp." Exact match titles have a better chance of showing up.
[Addendum: I thought of catchy titles for this blog, but decided on the one that is there now because I felt it might be found better for those looking for this kind of advice. In one day, it was #2 for those keywords. It also is in position 6 for queries on "how to rank my sex toy site high in Google," and this is because of the keywords I used throughout the article."]
Develop copy for your visitors AND for Google
Whenever I write website copy, my goal is be attractive to BOTH people and Google. That's not easy, but it's crucial if you want to both be found by Google, then dev1oured by your audience. My recommendation to you, Chrystal, is to do a bit of keyword research and insert some more popular keyword phrases into your posts when you can. Try to use phrases that people are actually searching on. But don't overdo it. Write for people first; Google second.
This also goes for your meta titles which are very important to rank high in Google. On your "Sex Toys for Sexy Mamas" post, for example, the title is "Sex Toys for Sexy Mamas — bliss-radio.com." You have 60 characters. Don't waste them. I love the title. It's creative and catchy, but attract Google too with more keywords that people are searching on and make that title something like "Sex Toys for Sexy Mamas | Rev up libido after childbirth".
Don't confuse Google.
Use traditional methodologies to optimize your pages. I can't get into all those here, but one piece of advice is to learn how NOT to cannibalize your pages. Take your Special Occasion post for example. You link on the word "sex toys" 3 times, but you point to 3 different pages! You're weakening (cannibalizing) your link juice that way and confusing Google. Which page is really about sex toys? My recommendation is to make a spreadsheet with all your pages and posts and decide which pages will get which keywords. Then be consistent about linking to them on their designated keywords.
It's ok to sell.
Squint your eyes and look at this post. It definitely doesn't look like you are selling anything there and maybe that's the way you intended it. I can see how that would be a benefit. It feels less commercial, less pushy, friendlier, and unbiased that way. You probably have built up a lot of trust and authority because you are not a pushy salesman. That's great, but I still think it's ok to sell.
What do your analytics show you? Are people clicking on those links to your store? If not, I would recommend adding product pictures next to those links and include a little caption that says something like "This nipple clamp can be found at BlissConnection.com." That doesn't sound pushy, does it? Or even, "You can buy this nipple clamp at BlissConnection.com."  Neither is pushy.

Think of sales as a service. In many of your posts, you recommend a product to your readers, by making it easy for them to find it and then buy it, you're providing a service. As it is now, with your links the same color as your text, it's not obvious that you're inviting them to click even though your words might be. So be a little more bold about it. But since this is your informational site, you do want to be careful about making it too commercial. Above all, build and keep that trust you've dev1eloped.
And finally on this point, I would add a page, not a post, on your site about your store. You have one for parties, why not for products? And I would add all your categories there with pictures and then pass over link juice to your store site by linking on the category keywords.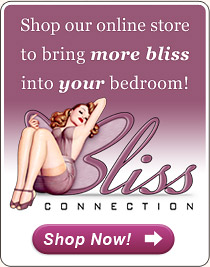 Invite your visitors to buy with a better banner ad.
I would also recommend adding product photos to your banner ad for your store that you see on the right here. Make it clear it's a place to BUY. Studies show that only a very small percentage of your visitors actually read your content. They just scan and they may just be scanning right over your text. So make your images count. Make it visually obvious that that banner link will take them on a shopping spree.
Add more category pathways into the site.
As it stands, it's not easy to drill down to topics of interest in your site, and that is true for Google as well! To solve this problem, create more categories and when possible assign them your targeted keywords. You can divide them up by gender, and then by type of toy or activity. This will help your readers and Google find what they came looking for. Make sure you tag your posts with keywords as well. This helps those blog posts come up in queries on those keywords.
Go forth, find your audience, and wave your blog in their face.
Remember my campaign poster above? Chrystal has that going for her in spades, doesn't she – tantalizing content that's sure to attract attention. But what she needs is an audience. Does she have that? Well, her blog was named one of the top 10 sex blogs in 2011, so she's definitely on the right track and my advice to her would be to keep doing what she's doing!
Everyone's goal with their blog should be to get as much exposure as possible. Here are some tips on how to do that:
1. Be active in social media. Share your blog posts in Facebook, Twitter, and LinkedIn. Bookmark it in Digg, Stumbleupon, PearlTrees, and now even Bit.ly. Shout it out!
Be active in others' blogs and social media pages in your sphere. Comment and give good advice freely, whether or not you get a "dofollow" link back. You'll get traffic to your site, and you'll build relationships with those bloggers. (Many blog comments have a "nofollow" attribute that tells Google not to count that link. Don't let that stop you. You're after traffic here and people will follow your link back to your site even if Google won't.)
To find blogs that target your keywords and that may have do-follow links, search for this in Google: intitle:"your keyword" +intext:"nofollow free"
2. Find people of influence in your field in Twitter. Those are the pundits, the leaders of the pack, the ones everyone follows. Follow them and their followers and try to get them to follow you. Mention them. Tweet and retweet them. Get their attention with your great posts and comments.
Here's a great tool to help you with this – Followerwonk
3. Build relationships with bloggers in your sphere by commenting in their blogs, chatting with them in Twitter, visiting their Facebook pages and engaging in conversations, and even emailing them. I've dev1eloped real friendships this way. They'll begin to take note of your blog and will mention, tweet, share it and even link to it.
4. Request to be a guest blogger on relevant sites, particularly on sites of influence. Chrystal is already doing that here. She needs to do more. Each one produces at least one link back to your own blog, and remember, a link back is what will boost your rank.
To find guest blog opportunities in your sphere, search for this in Google: intitle:sex intext:"write for us"
5. Seek out lists of sex advice blogs and try to get yourself on the lists by doing all of the above. Follow those bloggers in Twitter. Go where they go. Speak up and be heard wherever they are. Follow their followers.
To find blog lists, search for this in Google: "keyword" blogs list (where keyword might be "sex advice").
In summary
Phew. That seems like a lot, but in actuality it's not. It's really just icing on the cake as Chrystal is already doing an absolutely amazing job with her marketing, both online and off.
My final word of advice for Chrystal is to keep on improving her content. You can have all the connections in the world, and your site can be ranking #1, but if you're not giving them something to talk about, then all your efforts to succeed are going to be anti-climactic, and that's the last thing you want a sex therapist to be.
To your bliss, Chrystal!
Next: How does a local business serving local clientele get found in Google for queries in many cities for all their services and keywords?
Tomorrow, I give advice to a local limousine service that's trying to capture business throughout the entire Silicon Valley yet has only one address. How does it show up in Google for all those cities and then how does it stand out in the crowd? Follow that link because it's here now.